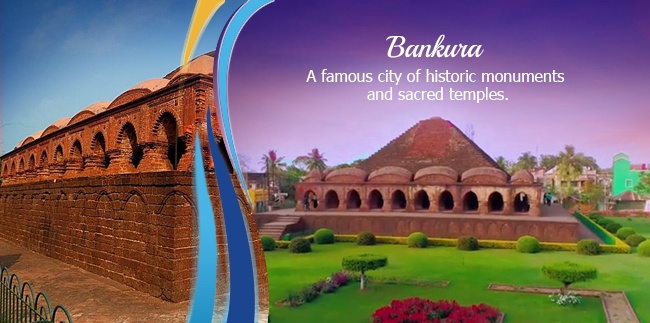 Bankura Tourism- West bengal
Bankura is a quaint settlement located on the western side of West Bengal. It is situated at a distance of 150km from Kolkata. Bankura is one the seven district of West Bengal. Enclosed by the meandering river streams, Bankura is blessed with one of the most verdant land. Bankura has gained prominence amongst travelers for its rich cultural heritage and historical significance.
Bankura is sited amidst the daunting hills. The hills enclosing Bankura are dotted with astounding trekking routes. Having its own railway terminus, Bankura is an easily accessible destination. Along with rolling green meadow there are many tourist attractions in Bankura. Visitors can explore the historic monuments or offer prayers in sacred temple while visiting Bankura.
Places to visit in Bankura
Bishnupur
Located at a distance of 34km from Bankura is an important tourist destination called Bishnupur. Formerly the capital of Mallabhum, Bishnupur is a historical significant place of West Bengal. It is famous for its terracotta temple and Baluchari Sarees. There are approximately 16 terracotta temples within the boundary of Bishnupur, the most famous one being the Rasmancha and Madan Mohan Temple.
Jayarambati
Jayarambati is a sacred town in Bankura District located at a distance of 48km from Bishnupur. It is the birth place of Sarada Devi making it the pilgrimage hub for the followers of Sri Ramakrishna. There is a temple called Matrimandir in Jayarambati dedicated to Sarada Devi.
Jhilimili
Jhilimili is a nature bound place located at a distance of 70km from Bankhura. The prime attraction of Jhilimili is the watch tower which offers a panoramic vista of river Kangsabati meandering through the emerald green forest. The river side of Kangsabati in Jhilimili has become a famous picnic spot of Bankhura.
Susunia Hill
Susunia is the name of a hill situated on the north-western part of Bankura. It is a known excavating site in West Bengal. Susunia Hill is located at a distance of 20km from the Bankura Railway Station. Fossil of many animal species like Asiatic Lion, giraffe, hyena were discovered from Susunia Hill. It is also known for its natural spring. Being a part of Eastern Ghat, Susunia Hill houses vast collection of medicinal plants. Visitors can find the oldest rock inscription of West Bengal in Susunia Hill. Lately the verdant land and rocky landscape of Susunia hill has become an ideal place for partaking in camping and rock climbing.
Mukutmanipur
Mukutmanipur is an important tourist destination of Bankura. It is quaint town located at a distance of 52km Bankura District Headquarter. Mukutmanipur is situated at the confluence of River Kumari and River Kangsabati. Mukutmanipur dam is the prime attraction of this town. It is the second largest dam in the country.
Biharinath Hill
Biharinath Hill, at an altitude of 448mt is the highest point of Bankura. It is situated at the northwestern side at a distance of 57 km from the main town of Bankura. In the ancient days Biharinath Hill was the centre of Jainism and at the present time it has become the hub of adventurer and pilgrims. The untarnished natural beauty and sacred Shiva Temple of Biharinath has attracted many travelers.
Best time to visit Banukura
The best time to relish the natural beauty of Banukura is during autumn and winter season (October to March).