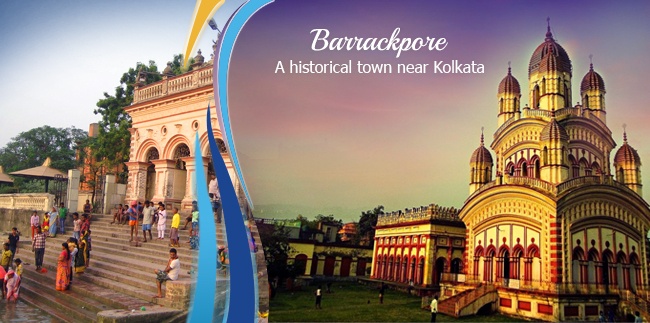 Tourism in Barrackpore-West Bengal
Barrackpore is a historical town of West Bengal situated on the Northern side of Kolkata. It is located at a distance of 28km from Kolkata. During 19th century Barrackpore was the centre of many rebellious acts against British power. In 1772 the first army cantonment of British East India Company in India was set up in this quaint town of Barrackpore. It is also the home of the oldest Police Training Academy in West Bengal.
Prior to British Era, Barrackpore was known as Chanak and the earliest reference of this region are found in the writings of the Greek navigators, geographers, chronicles and historians of the 1st century BC to the 3rd century AD. In 19th century Barrackpore gained its prominence in Indian Freedom Movement when two rebellious acts took place. The first was the Barrackpore Mutiny of 1824 when a Sepoy Bindee Tiwary refused to board a ship to cross the sea since during 18th century it was a taboo to travel through ocean. Another incident took places in 1857 when a Sepoy named Mangal Panday attacked and injured his British sergeant on the parade ground and wounded an Adjutant with a sword after failing to shoot at him. There are many places to visit in Barrackpore which were built to honor those brave National heroes. Apart from historical enriched places there are many pilgrimage sites in Barrackpore.
Places to visit in Barrackpore
Mangal Pandey Park
Located at a distance of 2km from Barrackpore Railway Station is a historical significant place called Shahid Mangal Pandey Maha Udyan or commonly known as Mangal Pandey Park. The nature bound park is named after the nationalist leader Mangal Pandey. It was here in this park on 8th April 1857 Mangal Panday was hanged for raising his voice against the British oppression. Historians and tourist alike are attracted toward Mangal Pandey Park of Barrackpore.
Gandhi Museum
Gandhi Smarak Sangrahalay famously known as Gandhi Museum of Barrackpore is the most prominent research institute dedicated to the "Father of the Nation". It was built in 1966. Visitors who want to learn more about the life work of Mahatma Gandhi can visit Gandhi Museum. The 5 galleries Gandhi Museum displays all the articles and books written on and by Gandhi. There is a photo gallery in the museum which consists of more than 800 rare photographs of freedom fighter. The rare articles and photographs of Gandhi Museum has made it a must visit destination of Barrackpore.
Bartholomew Cathedral
Bartholomew Cathedral built in 1847 is one of the most iconic structures in Barrackpore. The Gothic architectural style of Bartholomew Cathedral has left many travelers in awe.
Kali Temple
Kali Temple, built in 13th century is another historic significant destination of Barrackpore. It is a Hindu temple dedicated to the Goddess Kali. This temple not only attracts devotes but also historian. During British Era, this Kali Temple used to be the place where the nationalist would regroup and plan their next attack.
Best time to visit Barrackpore
Being located in the tropical region the best time to visit Barrackpore is October to March.