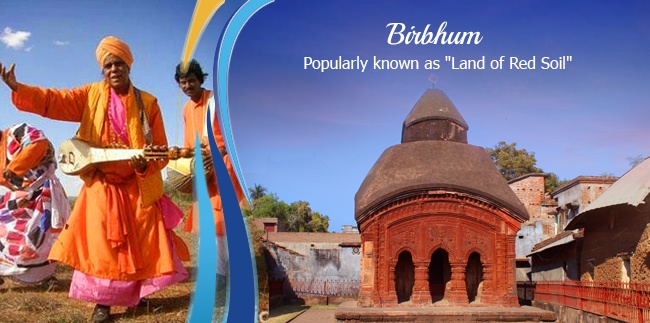 Birbhum Tourism- West Bengal
Birbhum is the northernmost town of West Bengal. It is located at a distance of 180km from Kolkata. Birbhum is often referred as "the land of red soil". It is reckoned for its topographical and cultural heritage which is different from other districts of West Bengal. Birbhum is famous for its university established by Rabindranath Tagore. The name of the Birbhum is derived from the native language were the word "Bir" stands for "Brave" and "Bhum" for "Land".
Birbhum is a historical significant district of West Bengal. The excavating sites relating to Pandu Rajar Dhibi has attracted many travelers towards Birbhum. Flanked along the Ganga delta plains Birbhum is endowed with rich alluvial soil. The hot springs and tantric temple of Birbhum draws the attention of tourist and devotees alike. There are many places to visit in Birbhum like ancient temples and historic monuments which have made it the hub of historians traveling to West Bengal.
Places to visit in Birbhum
Shantiniketan
Shantiniketan with its distinct culture and heritage has become a must visit destination of Birbhum. Shantiniketan was originally selected by Maharshi Devendranath Tagore to practice religious mediations. It is a verdant place which is famous for its institute established by Rabindranath Tagore.
Fullara
Located at a distance of 30km from Shantiniketan is a temple town called Fullara. It is famous for being one of the 51 Shakti peethas. Fullara is said to be the place where lips of Devi Sati fell. A temple has been built on the place where her lips were fallen and on an auspicious day devotee can be seen flooding this place. Beside the temple visitor can see a sacred lake which is said to be the very pond where Hanuman collected lotus for Shree Ram.
Tarapith Mandir
Tarapith is a temple town located at a distance of 46km from Birbhum. It is famous for its tantric temple. Tarapith Mandir also known as Tara Peetha is a Hindu tantric temple dedicated to goddess Tara, a fearsome aspect Tantric aspect of the Devi. Birbhum acts as a base for travelers and devotees who want to visit Tarapith Mandir.
Temple Of Nandikeshwari
Built in 1913 in Sainthia is a sacred temple called Nandikeshwari. It is located at a distance of 19km from Birbhum. According to local legend Sainthia town is linking with the event when Sati sacrificed herself in the holy fire. The temple of Nandikeshwari is unique in itself since it has no idol of any deity to idolize instead there is a stone tortoise shaped stone. Sainthia is also one of the 51 Shakti Peethas where the collar bone of Sati is said to have fallen. Tourists and Pilgrims travels towards Nandikeshwari in hopes of fulfilling their wishes.
Kankalitala
Kankalitala is another temple town of West Bengal. It is located at a distance of 26 km from Birbhum. Located along the river banks of Kopai, Kankalitala is one of the 51 Shakti peethas. A temple has been erected in the place where the Kankal of Devi Sati has fallen.
Suri
Suri also spelt as Siuri and Soori is a historically significant town of Birbhum District. The rich culture and history of Suri has attracted many historians. Suri is often referred as the hidden jewel of West Bengal.
Ballabhpur Wildlife Sanctuary
Founded in 1977 is a protected forest reserve called Ballabhpur Wildlife Sanctuary or commonly known as Deer Park. It is located at a distance of 27km from Birbhum. Surrounded with sal and piyal trees, Ballabhpur Wildlife Sanctuary is dotted with astounding nature trails and watch towers. The marshy land of this sanctuary attracts many exotic migratory birds making Ballabhpur a birding paradise for avid bird watchers.
Best time to visit Birbhum
The best time to visit Birbhum is from November to December and February to March.