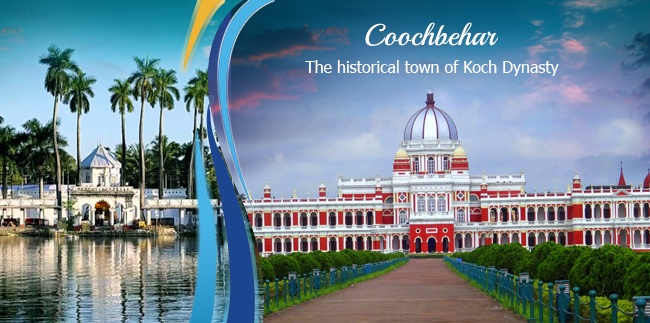 Coochbehar Tourism- Experience North Bengal
Coochbehar, located in the foothills of Eastern Himalayas is a district in West Bengal. It is the only planned town in West Bengal. Flanked along the river bank of Torsha, Coochbehar is blessed with rich ecology. During British Raj, Coochbehar was a princely state and the maternal home of Rani Gayatri Devi. The remnants of that regal era can still be found in the grandiose monuments of Coochbehar.
Prior to British Raj Coochbehar was governed by the Koch rulers. Most of the structures of Coochbehar were made under the commandment of Koch King. The most iconic monument of Coochbehar is the Victorian Jubilee Palace or also known as Rajbari. There are several natural lakes like Rasik Bill enclosing Coochbehar. It is one of the most easily accessible destinations in West Bengal since Coochbehar has its own bus, train and air terminals. There are many places to visit in Coochbehar which might hype the interest of history enthusiast.
Places to visit in Coochbehar
Coochbehar Palace
Coochbehar Palace also known as Victorian Jubilee Palace or Rajbari is the most iconic and famous spot of Coochbehar. Located in the heart of the regal town, Coochbehar Palace is noted for its elegance and grandiose structure. It was built in 1887 by Maharaja Nripendra Narayan. The palace is now preserved and maintained by the Archeological Survey of India. At present day Coochbehar Palace is turned into a public museum which showcases portrait of regal family, souvenir of royal hunting expedition, and antique furniture.
Madan Mohan Temple
Madan Mohan Temple is a pilgrimage centre of Coochbehar. It is an ancient Hindu temple of Coochbehar. The one storey structure of Madan Mohan Temple was built under the commandment of Maharaja Nripendra Narayan. During Rush Purnima devotes from far and wide travel to Madan Mohan Temple. It is one of the biggest festivals of North Bengal Region. Made with the fine blend of Hindi, Islamic, and Central Asia, architecturing style, Madan Mohan Temple is sure an eye pleasure.
Baradebi Bari
Located in the Debibari town of Coochbehar is a revered shrine called Baradebi Bari. The temple is dedicated to Hindu Goddess Durga. Built in the European architectural style, Baradebi Bari is flooded with the horde of devotes during auspicious days like Durga Puja.
Baneshwar Siva Temple
Baneshwar, situated at a distance of 10km from Coochbehar is a quaint town in West Bengal. It is known amongst the travelers for its Shiva Temple and centuries old turtles. The prime attraction of Baneshwar Siva Temple is the 10ft tall Shivalinga.
Siddheswari Kali Bari
Built in 1830 under the order of Maharaja Harendra Narayan is a sacred temple called Siddheswari Kali Bari. The temple is located at a distance of 11km from the main town of Coochbehar. Dedicated to Goddess Siddheswari nearby temple visitors can find a sacred tree.
Rasikbill
Rasikbill is a natural lake situated on the outskirts of Coochbehar. It is located at a distance of 28km from Coochbehar. Enclosed with dense forest of Sal trees, Rasikbill attracts many migratory birds from Central Asia and Ladakh. There is a deer park and crocodile rehabilitation centre located at the vicinity of Rasik Bill. Visitors can avail boating facility in Rasikbill.
Best time to visit Coochbehar
Blessed with temperate weather, Coochbehar can be visited throughout the year but October to December is considered the best time to visit.