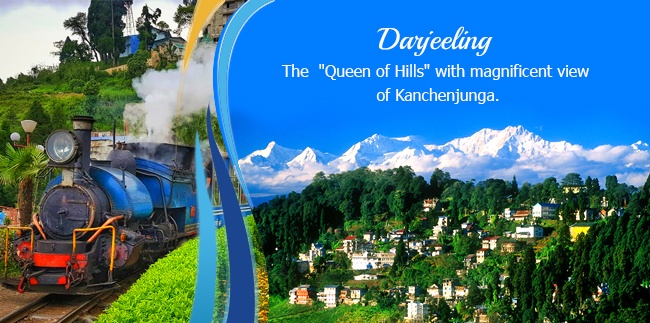 Shrouded beneath the veil of white mist amidst the alpine forest of conifers and pine tree is a place which has enthralled the mind of many since British era. Located in the lower foothills of Eastern Himalayas in West Bengal is Darjeeling. It is a renowned hill station of West Bengal region. Perched at an elevation of 2050mt, Darjeeling is the perfect place to escape from the maddening summer heat of the plains.
Being under the British provision from 18th century, Darjeeling has many colonial style architectures. Blissful weather is only an added charm of visiting Darjeeling. Overlooking the greater Himalayas, Darjeeling offers the panoramic vista of snow clad Mt Kanchenjunga and its surrounding range. The aromatic tea leaves are another star attraction of Darjeeling. Tourists from far and wide, travel towards Darjeeling to taste and see the world famous tea gardens. The valleys surrounding Darjeeling are dotted with alpine forest and aromatic tea gardens. Tourism of Darjeeling boosted after the British introduced the steam engine locomotive. Listed under the World Heritage Site in 1999, Darjeeling Himalayan Railway is the crown jewel of Darjeeling. DHR got its nickname as Toy Train due to small frame. Darjeeling is located at a distance of 68km from Siliguri, which makes it an easily accessible destination. There are few tourist interest points in Darjeeling which lets you enjoy the true sprits of this Himalayan wonderland.
Places to visit in Darjeeling
Now let us explore the sightseeing places of Darjeeling that are worth visiting during your vacation to Darjeeling.
Tiger Hill
Perched at an altitude of 2590mt, Tiger Hill is the highest point in Darjeeling. It is located at a distance of 11km from Darjeeling. Being the highest point, Tiger Hill is famous for offering the most mesmerizing sunrise over the Mt Kanchenjunga. Tiger Hill with its astounding sunrise has become one of the must visit destination of Darjeeling.
Ghoom Monastery
Situated on the Ghoom-Darjeeling highway, is Yiga Choeling Monastery, the oldest Tibetan monastery in Darjeeling. Also known as Ghoom Monastery, Yiga Choeling was built in 1850. It is located at a distance of 8km from Darjeeling Taxi Stand. The prime attraction of Ghoom Monastery is the 15ft tall statue of Maitreya Buddha, or the Future Buddha.
Batasia Loop
Overlooking the Darjeeling Township, Batasia Loop is a spiral railway route created to overcome the gradient for Darjeeling Himalayan Railway. Batasia Loop is sited amidst the well manicured garden. Visitors along with enjoying the panoramic view of Darjeeling can pay their homage to the brave Gorkha warriors for by visiting the war memorial of Batasia.
Chowrasta
Located in the heart of Darjeeling is the most popular hangout destination of Darjeeling, Chowrasta. It is the first smoking and vehicular free zone of Darjeeling. One side of the Chowrasta showcases the regal colonial style architecture while the other side offers the view of Mt Kanchenjunga. Here visitors can take a pony ride around the famous Mall road or enjoy cricket or football match on the screen put above the amphitheater. Chowrasta is the best place to enjoy the lively spirit of Darjeeling.
Padmaja Naidu Himalayan Zoological Park
Padmaja Naidu Himalayan Zoological Park also known as Darjeeling Zoo is a favored tourist destination of Darjeeling. It was established in 1958. Darjeeling Zoo is reckoned around the world for its conservative breeding program of endangered species like Red Panda, Tibetan Wolf, and Snow Leopard. Situated at an altitude of 7000ft, Darjeeling Zoo is the largest high altitude zoological park in India. On a clear day visitors can enjoy the view of Himalayan snowline from Darjeeling Zoo.
Himalayan Mountaineering Institute
Housing the oldest mountaineering museum in India is the Himalayan Mountaineering Institute of Darjeeling. Overlooking the greater Himalayas, HMI was established in 1954 to encourage mountaineering as a national sport. The museum of HMI showcases the artifacts, journal, clothing, and gears used during the first Mt Everest expedition.
Lloyd'S Botanical Garden
Located at a walking distance of 15min from Darjeeling taxi stand is Lloyd's Botanical Garden, the first botanical garden in Darjeeling. Visitors can enjoy the vast collection of exotic Himalayan flora especially of orchid and rhododendron in this botanical garden. It has become an ideal picnicking spot in Darjeeling.
Barbotey Rock Garden
Barbotey Rock Garden is a tourist attraction point built to boost the tourism after the brawl of 90's in Darjeeling. It is a terraced picnic garden built around a natural waterfall. Barbotey Rock Garden is located at a distance of 11 km from the main town Darjeeling. With its boating facility and pictorial views, Barbotey is a must visit destination in Darjeeling.
Shrubbery Nightingale Park
It is a well manicured garden located on the Mall Road in Darjeeling. Earlier a private courtyard of Sir Thomas Tartan's bungalow, now Shrubbery Nightingale Park is one of the vantage points to enjoy the mesmerizing view of Mt Kanchenjunga. Dotted with tall pine trees, Shrubbery Nightingale Park is located at a 10mins walking distance from Chowrasta.
Lamahatta
Lamahatta is ocated at a distance of 17 km from Darjeeling. It is a new found eco tourism hub. Sited amidst the lush pine tree, Lamahatta with its outstanding view of Mt Kanchenjunga has caught the attention of many travelers. The wooded forest enclosing Lamahatta is dotted with trekking routes one of them leading towards the twin lakes or also known as Jorphokhari. The blissful ambiance and untarnished beauty of Lamahatta has made it a must visit destination while traveling to Darjeeling.
Best time to visit Darjeeling
Darjeeling is blessed with temperate weather. The best time to visit this renowned hill station is during the months of March, April and May that are spring and summer season & from October to November that is autumn season. During this time the sky usually remains clear and offers breathtaking views of snow-clad Mt. Kanchenjunga. Monsoon season usually starts from mid-June and lasts till mid-September. During monsoon the roads becomes quite tricky and are prone to landslides making it difficult for visitors to reach this beautiful hill station. However, winter months that are November and December are the best time to experience bone chilling cold weather of Darjeeling and planning a tour during December gives visitors an added advantage to enjoy the festivities of Christmas and New Year.