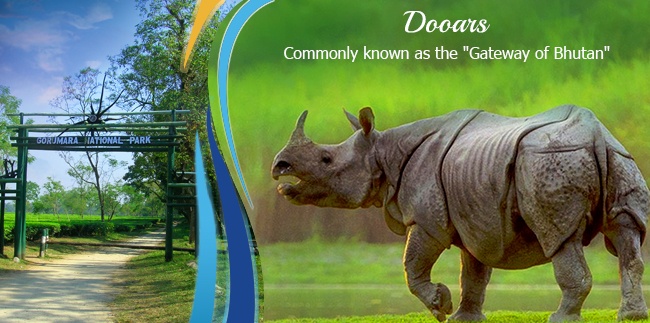 Tourism in Dooars- Experience North Bengal
Dooars, situated in the outer foothills of Eastern Himalayas is a verdant land in the West Bengal region. The name Dooars is derived from native language "Duars" which stands for "Doors". Blessed with rich flora and fauna Dooars has attracted nature lovers and wilderness explorer from far and wide. Sprawled along the Indo Bhutan border, Dooars forms a gateway towards the Bhutanese region. The luxuriant forest like Gorumara and Jaldapara are the prime attraction of Dooars.
The dense forest of Dooars is the home of many exotic wildlife species and tribe. Jungle safari and forest cottages of Kalipur and Dhupjhora play an important role in boasting the tourism of Dooars. The subtropical forests in Dooars are sprawled with meandering rivers, historical monuments, trekking routes and serene forest villages. Visitors not only can enjoy the vista of emerald green forest in Dooars but they can also relish the beauty of lush tea gardens. There are many places to visit in Dooars which has lured and captivated the mind of many travelers.
Places to visit in Dooars
Gorumara National Park
Founded in 1895, Gorumara National Park is a national park of West Bengal. It is midsized park with forest and grassland. Being a part of Dooars, Gorumara National Park has become famous for its population of Indian Rhinoceros, or also known as the Asiatic One-Horned Rhinoceros. Travelers visit Gorumara for jungle safari and forest accommodation. There are many watchtowers in Gorumara which can be visited during jungle safari, the most popular one being the Jatraprasad Watch Tower.
Lataguri
Lataguri is a quaint settlement situated in the vicinity of Gorumara National Park. It is located at a distance of 46km from New Jalpaiguri Railway Station and 70km from Bagdogra Air terminal. Known as the gateway towards Gorumara, Lataguri acts as a base for many tourists traveling in Dooars. The quaint town has a Nature Interpretation Centre which provides information about the flora and fauna residing in Gorumara National Park.
Jaldapara National Park
Flanked along the river bank of Torsha is another reserve forest of Dooars known as Jaldapara. Entitled as a national park in 2012, Jaldapara is known for housing the largest population of one horned rhino after Kaziranga National Park in Assam. Jaldapara is located at a distance of 72km from Gorumara. It is also one of the few places in India where Bengal Florican is sighted making it a birding paradise for avid birdwatchers.
Buxa Tiger Reserve
Enclosed by the daunting hills of Bhutan is a verdant forest called Buxa Tiger Reserve. Although there hasn't been an official sighting of Tiger since 2012, Buxa Tiger Reserve is famous for its historical monuments and trekking routes. Visitors can trek towards Buxa fort or Lepchakha village in Buxa Tiger Reserve.
South Khayerbari
Located at a distance of 10km from Madarihat is South Khayerbari the first animal rescue centre of its kind in North Bengal. Famously known as "Royal Bengal Tiger & Leopard" rescue centre, South Khayerbari acts as a rehabilitation centre for the rescued felines. There are 18 leopards in South Khayerbari. Visitors can take a tour of South Khayerbari and observe the rescued animals in their semi natural habitat with the help of battery operated cars.
Murti
Murti is verdant river valley situated within the subtropical forest of Dooars in West Bengal. It has become a popular hub for nature lovers and adventurers. Murti is famous for partaking in river side camping and angling.
Chilapata Forest
Situated on the periphery of Jaldapara National Park is a luxuriant forest reserve called Chilapata. It is located at a distance of 20km from Alipurduar town. Home of the Rabha Tribe, Chilapata Forest is an important migration corridor for the large herbivores animal. The dense forest of Chilapata houses the ruin of Nalraja Grah.
Samsing
Surrounded with the lush tea garden Samsing is an offbeat destination in Dooars. Samsing is located at distance of 82km from Siliguri. It is the starting point of Neora Valley National Park. Samsing with its unique location and pictorial views has become a gateway destination for many travelers.
Suntaleykhola
Located at a distance of 4 km from Samsing is another offbeat destination called Suntaleykhola. It has derived its name for the native language were the word "Suntaley" stands for "Orange" and "Khola" stands for "stream". The semi tropical forest enclosing Suntaleykhola is known for harboring several trekking route. The most famous trekking route from Suntaleykhola is towards Neora Valley.
Rocky Island
Rocky Island is an eco tourism hub in Dooars which is located at a distance of 2km from Samsing. Bounded by river Murti, Rocky Island is made with the formation of gigantic rocks. It is an ideal place for camping, and angling in the bank of river Murti.
Best time to visit Dooars
The forest area of Dooars remains close during 15th June to 15th September so apart from those times visitors can relish the beauty of Dooars throughout the year.