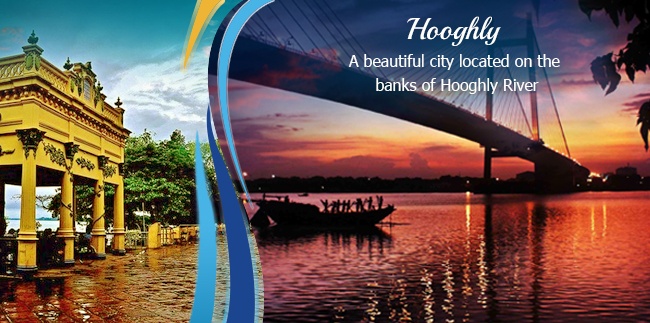 Hooghly- Tourism in West Bengal
Hooghly also spelt as Hoogli or Hugli is one of the districts of West Bengal. It is located at a distance of 40km from Kolkata. Flanked on the west bank of Hooghly River, the district of Hooghly was a river port in the 15th century. At present time Hoogly is one of the most economically developed districts in West Bengal. It is famous amongst the traveler for being a historical significant town of West Bengal.
Officially formed in 1795, the existence of Hooghly is dated back to more than 500 years. The district of Hooghly has thousands of years of rich heritage in the form of the great Bengali Kingdom of Bhurshut. Spread across Howrah and Hooghly, Bhurshut was a medieval Hindu kingdom. Colonized by Portuguese, French, and the Dutch, till date the remnants of those era can be seen in the monuments found in Hooghly. There are many places to visit in Hooghly which have hyped the interest of tourists traveling in West Bengal.
Places to visit in Hooghly
Tarakeshwar Temple
Built in 1729, Tarakeshwar Temple or Taraknath Temple is one the major pilgrimage centre of Hooghly. It is a sacred temple dedicated to Lord Shiva. Devotes from far and wide travel towards Hooghly to worship the hallowed Shivalinga of Tarakeshwar Temple. During Shivaratri Tarakeshwar Temple is flooded with the horde of devotes. Tarakeshwar Temple is located at a distance of 58km from Kolkata.
Chandannagar Museum
Chandannagar Museum of strand road is a 19th century old museum in Hooghly. Built under the commandment of French Prime Minister Pompidre and Indian Prime Minister Lal Bahadur Shastri, Chandannagar Museum houses numerous Fresh and British artifacts from the colonial era. The museum also showcases the artifacts relating to Nawab Rule or Gupta Era.
Bandel Church
Basilica of the Holy Rosary or commonly known as Bandel Church is another pilgrimage hub in Hooghly. Founded in 1599, Bandel Church is one of the oldest Christian Churches in West Bengal. The word "Bandel", is derived from the Bengali word "Bandar" which means "port". In front of the Church stands a ship's mast which was presented by the captain of a vessel which had encountered a storm in Bay of Bengal and save by the grace of Virgin Mary, which is the center of attraction of Bandel Church. The church has three altars, a small organ, & several tomb stones.
Imambara
Built in 18th century by Hazi Mohammad Mohsin along the river bank of Ganga is the Imambara of Hooghly. It is a mosque cum imambarah. The two storey building of Imambara was completed in 1861. The wall of Imambara is engraved with integrate design and holy writing from Quran. The Imambara is famous for its vintage clock hung above the main entrance.
Hangseshwari Temple
Hangseshwari Temple or Hanseswari Temple is an ancient Hindu Temple situated in Banshberia Town in Hooghly District. Completed in 1814 Hanseswari temple has a distinctive architecture consisting of 13 minars or Ratnas each built as a blooming lotus bud. The inner structure of Hangseshwari resembles human anatomy. The unique structure of this ancient temple has attracted many travelers.
Pandua Bari Mosque
Pandua Bari Mosque is another favored destination of the historians traveling in Hooghly. It was built in 1300 AD in typical Bengali brick architecturing style. There are three aisles with 21 doors in Pandua Bari Mosque. While visiting Pandua Bari Mosque visitor can see 63 small domes over brick arches resting on stone pillars that are influenced by Hindu architecture.
Serampore
Serampore is a historical significant town of West Bengal. It is located at a distance of 40km from Tarakeshwar temple of Hooghly. Situated on the western river bank of Hooghly the main attraction of Serampore is the Jagannath Temple. The sacred temple is the home of second oldest "Rath Yatra".
Deer Park
Sited on the river confluence in Kamarpukur is one of the favored tourist destinations of Hooghly called Garmuchuk Deer Park or commonly known as Deer Park. It is famous for its large population of Deer. The rolling green meadows of Garmuchuk are the grazing ground of Deer. The Deer Park with its unique ecology has become the hub of nature lovers traveling to Hooghly.
Best time to visit Hooghly
There is no specific time to relish the beauty of pictorial places of Hooghly. Being sited along the tropical area the most favorable season in Hooghly are autumn and winter seasons. Hence the best time to visit Hooghly is from October to March.