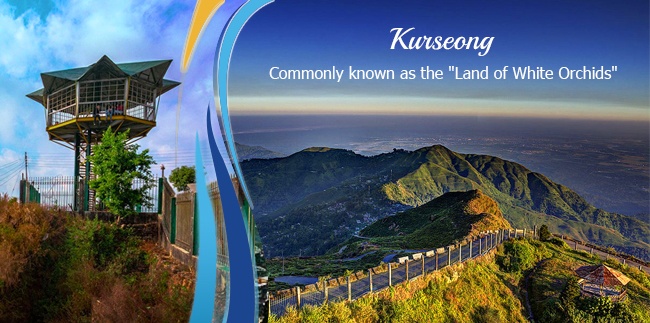 Tourism in Kurseong- Darjeeling
Kurseong, situated on the Siliguri-Darjeeling highway is a quaint bustling town famous for its Tea Estates. It is a hill station located at a distance of 32km from Darjeeling and 47km from Siliguri. Perched at an altitude of 1458 mt Kurseong is blessed with a blissful weather. This quaint town caught the limelight after the extension of DHR routes. Since then Kurseong with its pictorial views has inspired many artistic minds. Being the home of many educational institutes Kurseong is also known as The School Town.
Enclosed by the valleys dotted with luxuriant tea gardens like Castleton and Makaibari Kurseong attracts nature lovers traveling in West Bengal. Many people tend to overlook Kurseong during their journey towards Darjeeling making it a lesser visited tourist destination of West Bengal. Kurseong is said to have derived its name from the Lepcha word "Korsang" which stands for the "white orchid", since during spring season Kurseong is thriving with the view of white orchids sprawling in the nearby hills. There are many sacred temples, monasteries in Kurseong making it a pilgrimage centre for many devotes. The valleys and forested area bounding Kurseong are ideal for partaking in an easy trek. There are many places to visit in Kurseong which are known for offering aesthetic appeal.
Places to visit in Kurseong
When it comes to sightseeing, Kurseong has a lot to offer to its visitors. The beautiful hamlet is surrounded by green tea gardens, museums, temples, the very famous "Toy Train" station, etc. Given below is the list of best places to visit in Kurseong that you shouldn't miss during your Darjeeling-Kurseong tour.
Eagle's Crag
Eagle's Crag is one of the view points of Kurseong located at a distance of 1km from the main market area. It is famous for offering panoramic vista of hills and river stream enclosing Kurseong, a view which has left many travelers in awe. The lookout tower is situated amidst the well maintained garden.
Deer Park
Situated at the top of the hill overlooking the lush tea gardens is Dow Hill Eco Park or Deer Park a favored nature lovers' destination in Kurseong. The serene park got its name for the large population of deer. The uphill trek through the thick wooded pine trees is an added charm of visiting Deer Park. Being located in the periphery of protected area, Deer park has a forest museum. Maintained by the forest officials the museum showcases the information about the flora and fauna in Kurseong. For children there is recreational park with swings, slides and they can also observe deer in their semi-natural habitat.
Makaibari Tea Estate
Located on the way towards Siliguri via Pankhabari route, Makaibari Tea Estate is one of the famous tourist points of Kurseong. Founded in 1859 it is the oldest and most prestigious organic tea factory in West Bengal. The view of lush tea garden of Makaibari rolling down the valleys has captivated the mind of many travelers. Tourist can go on a tour within the processing area by paying a nominal fee. Visitors after the informational tour can buy some sample of the organic tea as a souvenir. There are several homestays available within the premises of tea garden.
Netaji Subhash Chandra Bose Museum
Netaji Subhash Chandra Bose Museum is a historic house museum of Kurseong dedicated after the Indian freedom fighter, Subhash Chandra Bose. The museum is located at a distance of 4km from Kurseong town. Prior to converting into museum it was the home of Subhash Chandra's older brother. The museum showcases many important artifacts and personal memorabilia like documents, photographs and letters of Subhash Chandra Bose Museum.
Giddapahar Mandir
Dedicated to Lord Shiva, Giddapahar Mandir is a sacred Hindu temple in Kurseong. It is located at a distance of 2km from main town of Kurseong. During Maha Shivaratri devotes from many places gather in Giddapahar to idolize the statue of Lord Shiva and other deities.
Ambotia Shiva Mandir
Located amidst the lush tea garden is Ambotia Shiva Mandir a Hindu temple in Kurseong. Overlooking the verdant valley dotted with orange orchards, Ambotia Shiva Mandir is dedicated to Lord Shiva. The Tibetan architectural style of Ambotia has caught the attention of many travelers.
Kettle Valley
Flanked along the river bank of Rinchengtong is a scenically blessed hamlet called Kettle Valley or Dilaram. It is located at a distance of 10km from Kurseong. With the astounding view of luscious tea garden, Kettle Valley has emerged as a favored picnic spot in Kurseong.
Sitong
Perched at an elevation of 4000ft is Sitong an offbeat destination of Kurseong. It is scenically blessed Lepcha hamlet. Surrounded with the luxuriant orange orchards Sitong with its rustic style and untarnished natural beauty has hyped the interest of nature lover traveling to Kurseong.
Best time to visit Kurseong
Except for monsoon season June to September, the surreal beauty of forested area and historical monuments of Kurseong can be relished throughout the year.