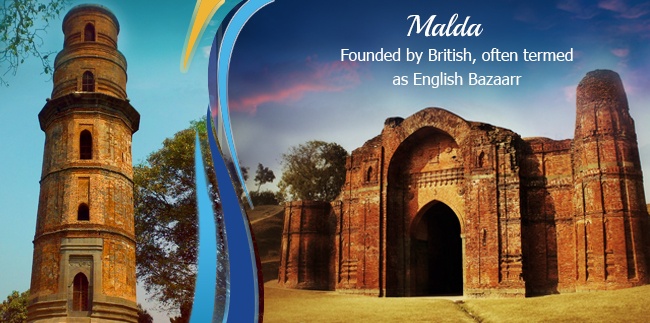 Malda Town- Tourism in West Bengal
Malda also spelt as Maldah or Maldaha is a district in West Bengal. Situated on the floodplains of Ganga, Malda is located at a distance of 347km from Kolkata. It was once the capital of city of Bengal. Malda derived its name from the native language where "Mal" stands for "Riches" and "Daha" for "Lakes". During ancient era Malda gained its prominence for being the river port of an old city called Pandua. Malda is famous for its delectable mangoes giving it the title of Mango City.
Being one of the historical significant districts of West Bengal, Malda attracts historians and archeologist involved in chronological studies and surveys. Founded in 17th century by British Malda is often reckoned as the English Bazaar. It entitled the name from the English factory that was established here in 1771. There are many places to visit in Malda like Adina Mosque, Firoz Minar, and Ramkila which still holds the remnants of ancient era.
Places to visit in Malda
Adina Mosque
Built in 1373, Adina Mosque is the largest mosque of Indian Continent situated in Pandua of Malda district. Located at a distance of 20km from English Bazaar, the ruins of Adina Mosque is one of the must visit destination of Malda. The inner sanctum of Adina Mosque showcases a fine blend of Arab, Bengali, Byzantine, and Persian elements. The main attraction of Adina Mosque is the Sultan's tomb chamber which is attached with the western wall.
Adina Deer Park
Located at a distance 20 km from Malda is a nature bound place called Adina Deer Park. The rich ecology of Adina Deer Park has made it a favored weekend and picnic spot of Malda. Visitors while visiting Adina Deer Park can spot Nilgiri and Cheetals.
Gour
Once the capital of Bengal, Gour is a historical significant place situated along the Indo-Bangladesh Border. It is located at a distance of 12km from Malda. Malda acts as a base for exploring the remnants of this ancient city.
Dakhil Darwaja
Built in 1425 A.D, Dakhil Darwaja was once the main entrance of Gour. It is the largest structure of its kind in the architectural history of Sultanate Bengal. The terracotta work in Dakhil Darwaja has left many travelers awe-stricken. During the Sultanate era, Dakhil Darwaja was used as a spot for firing canon entitling it as the Salami Darwaja.
Qadam Rasul Mosque
Qadam Rasul also spelt as Kadam Rasul is a sacred mosque in Malda. It was built in 1530 under the commandment of Sultan Nasiruddin Nusrat Shah. The mosque derived its name from the stone tablet, which bears the footprints of Prophet Muhammad. The footprint of the revered prophet is the main attraction of Qadam Rasul Mosque.
Firoz Minar
Firoz Minar is another historic monument of Malda. It is a five storey tower built during Sultan Saifuddin Feroze Shah's rule. Firoz Minar is located at a distance of 1km distance from Dakhil Darwaza. Often called as the Qutab Minar of Malda, the top floor of Firoz Minar is the vantage point to catch the astonishing vista of Gour Castle. Apart from the astonishing view, Firoz Minar has intrigue the interest of traveler with its Tughlaqi style of architecture.
Malda Museum
Malda Museum located on the Bandh road of Malda is an archeological museum. It is maintained by the West Bengal Directorate of Archaeology. Malda Museum preserves and showcases 1500 years old anthropological and architectural artifacts. The historical heritage displayed in Malda Museum has hyped the interest of many tourists traveling to Malda.
Best time to visit Malda
October to March is the best time to visit the Mango City, Malda of West Bengal.