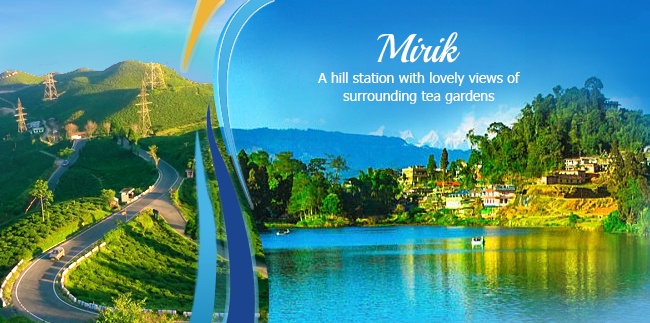 Mirik Tourism-Darjeeling
Mirik, situated amidst the dense forest of alpine tree is a new found hill station of West Bengal Region. It is a scenically blessed town located at a distance of 49km from Darjeeling and 51 km from Siliguri. Mirik is said have derived its name from a Lepcha word "Mir-Yok" which mean "Place burnt by Fire". The most iconic landmark of this serene town is the Lake Sumendu or also known as Mirik Lake. Mirik with its natural beauty, easy accessibility, and laid back life style has become a favorite tourist destination.
Perched at an altitude of 1495mt, Mirik is much warmer compared to Darjeeling. Visitors are offered with the most exquisite vista of emerald green forest and lush tea garden while traveling to Mirik. It is one of the places in the West Bengal region which offers an astounding view of snow capped Mt Kanchenjunga and its surrounding range. There are few colonial buildings in Mirik which till date holds the remnant of British Era. There are many Tourist Attractions in Mirik which is thriving in natural beauty.
Places to visit in Mirik
Sumendu Lake
Sumendu Lake is the most prominent landmark of Mirik. Famously known as Mirik Jhill, Lake Sumendu is located in the heart of Mirik. Mirik Jhill is the only place where visitor can go for boating and pony riding. One of side of the lake is enclosed with the verdant forest of Cryptomaria-Japanica tree and the other end to a well manicured garden. Both ends are connected by a footbridge called Indrani Pool. The forest is dotted with several natural trails. On a clear day the still water of Lake Sumendu reflects the panoramic view of Mt Kanchenjunga.
Devi Stan
Located on the vicinity of Lake Sumendu, Devi Stan is the most sacred Hindu temple in Mirik. The temple idolizes statue of many deities like Lord Shiva, Goddess Kali, Goddess Singla Devi and Hanuman. Devotees and travelers alike visit this revered temple to receive the blessing while visiting Mirik.
Sunrise Point
Sunrise Point, as the name describes, it is a hill in Mirik which is famous for offering an awe-inspiring sunrise over Mt Kanchenjunga. Overlooking the rolling green meadows of rich coffee plantation and luscious tea garden, Sunrise Point is one of the vantage viewpoints in Mirik. On a clear day tourist can witness the impeccable view of lofty Himalayan Mountains along with the plain region of North Bengal.
Bokar Monastery
Located on the way to Rameetay Dara is Bokar Ngedon Chokhor Ling Monastery a Buddhist pilgrimage hub in Mirik. Bokar Monastery was built in 1986 by Kyabje Bokar Rinpoche. He was the 16th Gyalwa and one of the main meditation teachers of Kagyu. Bokar Monastery is an important Buddhist meditation centre.
Rameetay Dara
Located at an easy walking distance from Lake Sumendu is Rameetay Dara. It is one of the viewpoints in Mirik. Visitors can enjoy the encompassing view of snow clad mountain and plain region from Rameetay Dara.
Tingling View Point
Tingling is the name of another view point in Mirik. Offering the view of lush tea gardens, and winding roads craved in the mountainous valley Tingling View Point has become a favored Tourist Destination of Mirik. On a clear day visitors can also catch the glimpse of a serene hamlet called Soureni from Tingling. Soureni is known for its juicy oranges.
Rai Dhap
Rai Dhap is a man-made reservoir built to provide drinking water in Mirik. Surrounded with dense alpine forest of pine trees, Rai Dhap is known for being an ideal picnicking spot. The serene ambiance and occasional sighting of exotic Himalayan birds has made it a place to find solace amidst nature.
Simana Viewpoint
Located on the Mirik-Darjeeling highway is Simana the border road of Nepal and India. Simana Viewpoint is famous for offering an unhindered view of Manebhanjan, Sandakphu trail and the lofty mountainous valley with the backdrop of Mt Kanchenjunga. The view point has become a pit stop while traveling to Darjeeling from Mirik or vice versa.
Best time to visit Mirik
Blessed with temperate weather, Mirik is one of those destinations which can be visited throughout the year. But October to December is considered the best time to catch the unhindered view of Mt Kanchenjunga.