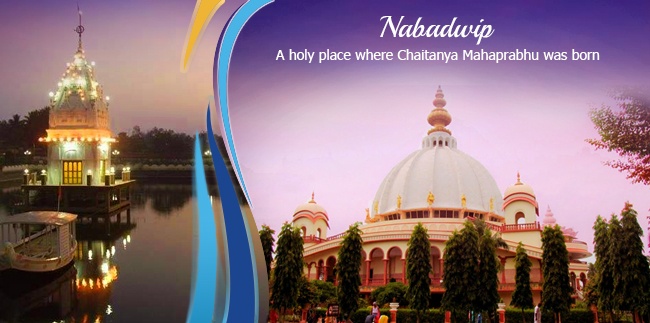 Tourism in Nabadwip Dham
Nabadwip is an ancient settlement located in eastern side of West Bengal in Nadia District. Formed by combining 9 different islands Nabadwip is often considered as the Oxford City of Earliest Bengal. Nabadwip is situated along the banks of Damodar River and is known for being the origin of numerous Lilas of Hindu deities. It is located at distance of 122km from Kolkata. Nabadwip is a famous amongst the travelers for being the birth place of Sri Chaitanya Mahaprabhu.
During 11th Century Nabadwip was the capital of Bengal Empire under the rule of Ballal Sen. Once a historic town is now a prime religious and pilgrimage center, which attracts millions of devotees and visitors every year. There are many ancient and new temples dotting the historic land of Nabadwip. The name Nabadwip is derived from the native language where the word 'Naba' stands for 'New' and 'Dwip' for 'Island'. One of the most convenient ways to reach Nabadwip is by boarding on a train from Kolkata.
Places to visit in Nabadwip
Sonar Gouranga Temple
Sonar Gouranga Temple is one of the prime attractions of the ancient city Nabadwip. It is a Hindu temple dedicated to the revered saint Chaitanya Mahaprabhu. Sonar Gouranga Temple was built by Pratap Chandra Goswami, one of the followers of revered saint. Visitors from far and wide, travel to Nabadwip to offer their prayers to the sacred footwear of Chaitanya Mahaprabhu. The footwear is kept in a glass case.
Krishnanagar Rajbari
Located at a distance of 20km from Nabadwip along the southern banks of the Jalangi River is Krishnanagar. The serene settlement is famous for its royal palace called Krishnanagar Rajbari. Travelers mostly visit this regal palace to attain the Jhulan Mela.
Sri Chaitanya Saraswat Math
Sri Chaitanya Saraswat Math situated along the river banks of Damodar is another favored tourist destination of Nabadwip. The gleaming white structure of Sir Chaitanya Saraswat Math was founded in 1941 by Srila Bhakti Rakshak Sridhar Dev-Goswami Maharaj. The serene ambiance and astounding architecture of Sri Chaitanya Saraswat Math has captivated the mind of many travelers.
Rangaghat
Rangaghat located at a distance of 52km from Nabadwip is a historical significant town. Sprawled along the banks of river Churni, Rangaghat is the home of many famous actors, and nationalist. This ancient city has lured many tourists with its mouth watering sweet dishes and traditional Handloom industry.
Best time to visit Nabadwip
The idyllic ambiance of this ancient city can be relished throughout the year but the festive season (Durga Puja) is considered the best time to visit Nabadwip.