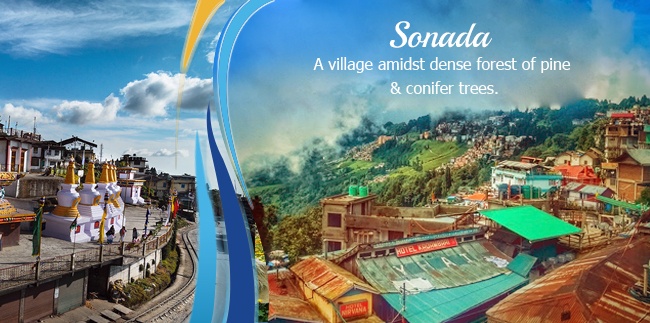 Sonada-Darjeeling Tourism
Sonada is a small bustling town located on the Darjeeling-Siliguri highway. It is one of the lesser known hill stations in Darjeeling District of West Bengal. Sonada is located at a distance of 16km from Darjeeling and 52km from Siliguri. Surrounded with the dense forest of pine and conifer trees, Sonada has caught the attention of travelers with its DHR (Darjeeling Himalayan Railway) station.
Situated at an altitude of 6552ft the hills of Sonada showcase an astounding vista of Mt Kanchenjunga. It is one of the places in West Bengal which is ideal for getting an unhindered view of Mt Kanchenjunga and its surrounding ranges. The lower valley of Sonada is dotted with the rolling meadows of lush tea gardens like Ceder's, Milling, Kalej Valley and Balasun the upper valley being sprawled with the virgin forest of pine. The dense forest enclosing Sonada is dotted with the astounding trekking routes one of which leads the trekkers towards the famous sunrise point of Darjeeling Tiger Hill. There are many tourist interest points and Offbeat Destination in Sonada, which has hyped the interest of nature lovers.
Places to visit in Sonada
Samdrup Dorjay Choeling Monastery
Located at a 10mins walking distance from Sonada Railway station on the way towards Darjeeling is a Samdrup Dorjay Choeling Monastery. It is a Tibetan Monastery built under the commandment of his eminence Dorje Chang Kabje Kalu Rinpoche. The main sanctum of Samdrup Monastery houses the remains of Kalu Rinpoche. When visiting this monastery tourists at first are welcomed by the sight of 7 gleaming white peace pagodas or Sutpas, along with a newly built statue of Guru Rinpoche.
Gorato Nalichor Intek Cider's
Overlooking the beautiful gorge is Gorato Nalichor Intek Cider's a pilgrimage hub of Sonada. With the grandiose statue of Jesus Christ and a quaint sanctum dedicated to Mother Mary, Gorato emits an aura of serenity. On a clear day visitor can witness the view of river Balason cascading through the rugged valley from Gorato. The tranquil ambiance and pictorial view of the adjacent valleys has made Gorato a favored destination of Sonada for pilgrims and travelers alike.
Chatakpur
Situated in the periphery of Senchel Wildlife Sanctuary is Chatakpur an eco tourism hub. It is located on the upper valley of Sonada at a distance of 7km from Sonada Railway Station. Chatakpur is a quaint village in Darjeeling District built in order to stop timber trafficking but now it also act as a place to find solace. The forest cottage and home stay in Chatakpur lets the travelers experience a rustic style of living of the Himalayan region. Sited amidst the terraced field and pine trees, Chatakpur has its own watchtower which is a vantage point to enjoy an astounding sunrise. Just like in Tiger Hill, visitor can witness sunrise over the snow clad Mt Kanchenjunga from Chatakpur only without the maddening crowd. Chatakpur has being an ideal place for birding in Darjeeling.
Best time to visit Sonada
Being situated at a higher elevation winter in Sonada can be teeth clattering so the best time to visit Sonada is during March to June.