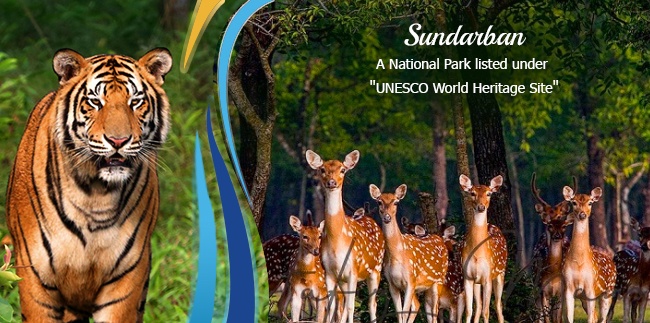 Tourism in Sundarban- West Bengal
Sprawled in the southern region of West Bengal in the Ganga Deltas is Sundarban a protected area with the most unique ecology. It is a national park, tiger reserve and a Biosphere Reserve. Listed under the UNESCO list of World Heritage Site, Sundarban is the largest single block of mangrove forest in the world. Situated close to Indo-Bangladesh border, 1/3rd part of Sundarban is in Bangladesh. Sundarban Tiger reserve is known for having the largest number of tigers in the entire world. The name Sundarban is believed to have been derived from the native language were mangrove tree stands for the Sundari Tree.
Infamous for its man eating tigers, there are many parts of Sundarban which is yet to be explored. The dense forest of Sundarban is dotted with the ruins of places which during 17th century acted as hideouts for the dacoits, salt smuggler, and Persian pirates. At present time except for being a unique forested area, Sundarban, has many beaches, and estuaries like Sagardigha which attracts travelers from far and wide. Unlike other forest, tourists can't venture upon the dense mangrove forest of Sundarban on jeep or elephant, boat safari is their only option. The boat takes travelers to various watch tower and places sprawled with in Sundarban. Sundarban is located at a distance of 109km from Kolkata.
Places to visit in Sundarban
Sajnekhali Bird Sanctuary
Established in the 1976 in the northern part of Sundarban is a sanctuary called Sajnekhali Bird Sanctuary or Sajnekhali Abhayaranya. It is one of the three preserved areas of Sundarban. Sajnekhali Bird Sanctuary is about 130 KMs from Kolkata. The marshy environment of Sajnekhali is ideal for being the breeding ground for many winged animals. The watch tower within the sanctuary is a vantage point to spot birds like kingfishers, plovers, sandpipers, egrets, herons, and white-bellied sea eagles. There is a Mangrove Interpretation Centre in Sajnekhali Bird Sanctuary which gives detailed information about the flora and fauna and other inhabitant residing in Sundarban. There is also a visitor's center where they can visit a crocodile enclosure, a turtle hatchery, and a shark pond.
Sudhanyakhali Watch Tower
Located in the Sundarban National Park, Sudhanyakhali Watch Tower is one of the favored tourist destinations. Overlooking the fresh water pond, Sudhanyakhali Watch Tower is one of the few places where people have officially sited a Royal Bengal Tiger in Sundarban. Even if there is no tiger sighting, tourist can surely spot other wild animals like spotted deer, crocodiles, and wild boar.
Tin Kona Island
Tin Kona Island is another favored tourist destination in Sundarban. The island is famous for its population of Deers and Tiger. The name Tin Kona is derived from the native language where the word "Tin" stands for "Three" and "Kona" for "Corners".
Dublar Chal Island
Situated in the Bangladesh region, Dublar Chal is a picturesque and a less trodden island of Sundarban. Well known for its beaches and fishes, Dublar Chal Island has its own watch tower. Tourists are towards Dublar Chal due to its serene ambiance, and scenic beauty.
Hiron Point
Hiron Point, also known as Nilkamal, is another vantage point which showcases the surreal beauty of Sundarban. Near the Mongla Port, tourist visiting Hiron Point can find accommodation facility.
Best time to visit Sundarban
The best time to visit Sundarban is from September to March.